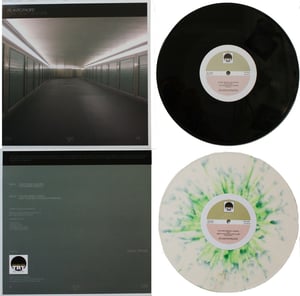 £

4.99
(PLEASE CHOOSE VINYL COLOUR FROM DROP-DOWN AT FOOT OF PAGE)
!!!Each purchase enters you into competition to win a test pressing (with custom-made cover, limited to just 9 copies!) or a copy of the record signed by the band!!!
((CLICK PIC FOR LARGER IMAGE))
Side A:
1) Some Weary Valentine
2) The Inquisition (Demo)
Side B:
3) Picture Perfect (Demo)
4) Meet Your New Love (Live in Hamburg, with Sergie from Samiam)
PRESSING INFO:
200 - BLACK
300 - Opaque WHITE with translucent GREEN splatter!
TRY-003 is the debut record from two of the finest, most hard-working musicians to grace their respective scenes. We are excited to bring you the first ever release by Atlantic/Pacific, the band formed by John Herguth (House & Parish) and Garrett Klahn (Texas Is The Reason, Solea).
Atlantic/Pacific was originally conceived in the summer of 2008 and started life as an acoustic duo deep in the heart of Brooklyn. Its roots stretch as far back to the days of Texas Is The Reason when the two agreed to someday 'do something'. With an impromptu rehearsal and a shared desire to get back on the road, the stage was set and the first tour booked with Sergie Loobkoff of Samiam/Solea joining the band for the Winter 2008 tour.
Atlantic/Pacific continues to shape their sound, at times borrowing from shoegaze of the 90s and, at times, drifting in and out of folk landscapes of all decades. This 10" is a snapshot of the band during this formative period and serves as the perfect introduction to listeners all over the world.
Spring 2009, back in the US and, with help of Ian Love, the beginnings of a debut LP are beginning to emerge. 2009 sees further US & European tour dates along with more recording. Atlantic/Pacific is in motion and chances are the tide will find its way to you sometime soon.
For More information, contact:
www.unlessyoutryrecords.com
sales@unlessyoutryrecords.com