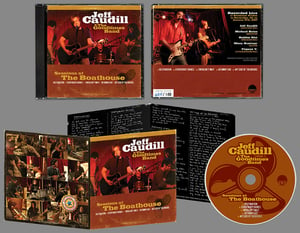 £

4.50
Here it is! The inaugural release from UYT Records. We are ridiculously priveleged to be releasing this strictly limited edition CDEP by a real all-star band. Featuring ex-members of Farside, March and The Last, the Goodtimes Band provide the musical 'lungs' that breathe new life into four Jeff Caudill classics plus a brand new exclusive track "I Wouldn't Wait". Mixed by Robbie Rist, the band's debut release takes JC's solo tracks and injects an energy and personality that can only come from a truly passionate group of talented musicians. Viva la Newcastle Brown-fuelled rock!
Track List:
01. Destination
02. Everybody Shines
03. I Wouldn't Wait
04. Getaway Car
05. My Side of the Bridge
The Goodtimes Band:
Jeff Caudill - vocals , guitar
Michael Bains – mandolin, piano
Mike "Popeye" Vogelsang – guitar
Robbie Rist – drums
Missy Buettner – bass guitar
First pressing limited to 500 copies.
First 200 copies autographed by entire band!
Recorded January 27th, 2007 at Boathouse Studios, Northridge, CA. Engineered by Robbie Rist & Missy Buettner. Mixed by Robbie Rist.