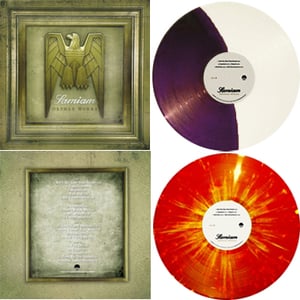 £

10.99
To buy this LP on iTunes, click here:

For purchases made through this webstore:
**Include FREE Download code insert good for one digital copy of the entire album!!!**
***'Both variants for £19.79' option = 10% discount! (PLEASE, if buying both colours, make sure you add two of this option to your cart. The discount will be given as Paypal refund of £2.19. This option includes 2 FREE download codes!!!***
!!!Each purchase enters you into competition to win a test pressing (limited to just 9 copies!) or a copy of the LP signed by the entire band!!!
((CLICK PIC FOR LARGER IMAGE))
Side A:
1) Ain't No Size That Small
2) Capsized
3) Regret
4) Bad Day
5) My Convenience
Side B:
6) Stepson
7) Don't Break Me
8) Mr. Walker
9) I Want More
Side C:
10) Search and Destroy
11) Here Comes Your Man
12) Stepson
13) Sky Flying By
Side D:
14) Full On
15) Clean
16) Speed
17) Time By The Dime
18) Home Sweet Home
PRESSING INFO:
199 - 'SamStray'
300 - 'ClumDown'
Here we go!!! Unless You Try Records is proud to bring you the new release from the mighty Samiam! For those of you who haven't let this band's music enrich your life, they simply write some of the catchiest, melodic, guitar-driven tunes you will ever hear. Influenced by bands such as The Doughboys, Descendents & Husker Du, the band's sound has attracted a truly worldwide army of fans since the band's inception back in Berkeley, California circa 1988. Along with contemporaries Jawbreaker, they pretty much built the Bay Area pop-punk sound that many subsequent musicians owe so much to!
Countless world tours with bands such as Blink-182, Leatherface, Green Day & Sense Field (to name a few) have led to a rollercoaster of highs & lows for the band. They have literally experienced every facet of the music industry since the band's birth, whilst never being content to fit into any of the genres that the music media deemed fashionable at the time! This DOUBLE LP showcases previously unreleased & rare tracks from this 20-year-plus career at the forefront of independent music, and contains a full-colour insert with stories & memories from the individual band members, past and present. We hope it will serve as a great introduction to new listeners as well as a solid reminder to existing fans of just how influential Samiam have been (& continue to be!)
This strictly-limited UK vinyl pressing comes on two different variants, both of which are derived from the band's previous vinyl releases:
2x12"s 'SamStray' split colour
-"Samiam" LP originally pressed by New Red Archives on Transparent Purple
-"Astray" LP originally pressed by Hopeless Records on Solid White
2x12"s 'ClumDown' splatter wax
-"Clumsy" LP originally pressed by Bitzcore Recs on Transparent Red
-"Whatever's Got You Down" LP originally pressed by Hopeless Records on Yellow Splatter
For More information, contact:
www.unlessyoutryrecords.com
sales@unlessyoutryrecords.com